EB (Experimental Batch) Wines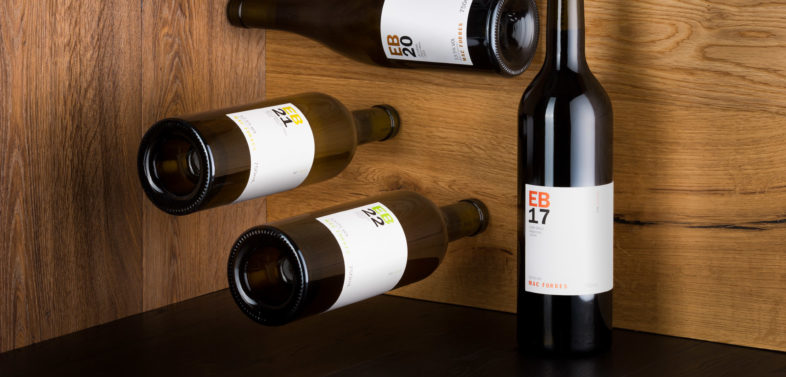 Our passion and love for the endeavour of winemaking takes direction from our vineyards, which often lead us into unchartered territory. Our experimental batch (EB) wines are unique wines that have challenged us to push the boundaries of our experience, comprehension of winemaking techniques or our viticultural practices. All these wine are made to increase our understanding. Some trials never make it to bottle but those that do are deemed interesting and enjoyable enough to share.
Join our mailing list to obtain more information about new release EB wines.
2015 EB22 'Tradition' Riesling
Previously we've made a riesling with 3 months on skins. Funny how the longer the wine is left on skins, the less the tannin really plays a role in the final wine.
Tasting notes
2015 EB21 'She Drives Me Crazy' Wessie Whites
This blend of whites drives us crazy from deciding picking dates, through to the excitement of bottling.
Tasting notes
2015 EB20 'OV Chenin' Chenin Blanc
Our first crack at Chenin from our Old Vines at our Wesburn property. Can't wait to see where she goes.
Tasting notes
2015 EB19 Fortified Sem (Semillon)
What to do with an excess of Semillon? Fortify Dylan cried. So we did. Naturally.
Tasting notes
2015 EB18 P3 (Pinot Gris, Pinot Noir, Pinot Meunier)
An extension of the P2 we made in 2014, this wine is all at once pretty, delicate and firm. Bright red fruits with some herbal notes coming from some whole cluster influence.
Tasting notes
2015 EB17 Love Child Cabernets
A Cab field blend…all varieties are interplanted and picked on one day.
Tasting notes
2015 EB16 Arneis
My mother hates Chardonnay, is somewhat partial to Riesling but loves Arneis. So this wine was made with her in mind and to hopefully save Hugh from his regular buying trip to Dan's.
Tasting notes
2015 EB15 PYT Syrah (Nouveau style)
Pretty, perfumed and utterly glugable. We had a delicate parcel of Syrah and this gentle handling seemed appropriate. To be consumed whenever thirsty.
Tasting notes
2014 EB14 Nebbiolo
Tasting notes
2014 EB13 Wessie Whites (Semillon, Sauvignon Blanc, Chardonnay, Chenin Blanc, Muscadelle), Wesburn
Tasting notes
2014 EB12 The Chardonnay Beast, Yarra Vally
Tasting notes
2014 EB11 P2 (Pinot Noir and Pinot Gris), Coldstream
Tasting notes
2014 EB10 Ginger Rizz (Riesling), Strathbogie Ranges
Tasting notes
2012 EB09 Flor Chardonnay, Strathbogie Ranges
Tasting notes
2013 EB08 Methode Ancestrale, Wesburn
Tasting notes
2013 EB07 Whole Bunch Riesling, Strathbogie Ranges
Tasting notes
2013 EB06 Claret, Wesburn
Tasting notes
2011 EB05 Fortified Cabernets, Wesburn
Tasting notes
2012 EB04 Tradition Riesling, Strathbogie Ranges
Tasting notes
2010 EB03 One Tonne Woori Pinot Noir, Woori Yallock
Tasting notes
2007 EB02 Chardonnay, Strathbogie Ranges
Tasting notes
2005 EB01 Pinot Noir, Yarra Valley
Tasting notes